Real Estate Social Media Calendar
One of the biggest frustrations I hear about social media marketing for real estate agents is that it takes too much time and too much effort. But social media for real estate is one of the most cost-effective and powerful ways to market a real estate business, which also means that it has to be an essential part of your marketing plan. So in this article, i'm going to show you how to master real estate social media.
How To Master Real Estate Social Media
1: Take Photos Everywhere, So You Always Have Real Estate Content for Social Media
Yes, take photos EVERYWHERE!
They could be of anything…
Beautiful homes
Amazing restaurants
Cute little shops
Stunning hikes
Meeting community influencers
Around your office
Even fun times with your team and with your family!
And speaking of teams, if you have one, another great way to dominate real estate social media and instantly double your content, is to encourage all your team members to take photos and submit them to you weekly as well.
2. Filter Your Photos So They're Beautiful and On Brand
Social media is often the first encounter that a local resident will have with your business. So make sure to put your best foot forward. Make sure that your photos are stunning and that they also match your brand.
My favorite real estate social media apps are:
I like both of these apps because they're easy to use and because you can access them on both desktop or mobile – of you're on the go!
3. Use A Real Estate Social Media Content Calendar To Stay Organized
A content calendar is a place where you schedule out all of your social media content for the week. It also ensures that all of your social media gets posted consistently (even when you get busy.) It also ensures that you never run out of real estate social media ideas!
A content calendar for a real estate agent would be grouped into categories that revolve around things that your local farm would find interesting and want to share. Here are some sample real estate social media posts…
Mondays
Feature a local hot spot in town that people have been dying to visit.
Tuesdays
Post real estate tips.
Not sure what tips to post? I got you covered! Just make a quick list of all of the most common questions that you get and then just go out and answer those questions.
Wednesdays
Spotlight someone or something in the community.
It can be new construction going up, a dog that needs a new home, recognition for a local hero, you name it!
Thursdays
Post something personal.
A lot of people are hesitant to post personal things but you have to, because it humanizes your brand and makes you real (and likable) in the minds of your fans and followers.
Fridays
Post a list of fun weekend events.
Saturdays
Promote your business.
Feature your real estate on social media! This could be a new listing, open house invitation, or any other featured part of your business that you'd like to promote!
4. Write An Interesting Description That Grabs (And Keeps) Attention
It's a fact, interesting descriptions get read. So every social media post that you write needs to be both interesting and intriguing.
Here's the magic formula for a perfect social media Description:
Who
What
Where
When
Why
Question
5. Always Include a Call To Action At The End Of Your Real Estate Social Media Content
Let me give you a couple of examples to show you what I mean…
"Never miss a thing in NYC, click here to get a list of fun local events delivered to your inbox weekly."

"For reviews on more local hot spots, visit our blog."

"For an instant home evaluation, click here."

"Thinking of buying or selling your home this year? Text us anytime!"
6. Pick Your Real Estate Social Media Platforms (And Forget The Rest)
Okay, so I'm going to let you in on a little secret….
You don't have to master every single social media platform.
I hope that's lifted a huge weight off your shoulders!
Just pick 1 or 2 platforms, and forget about the rest. Once you master these few, then you can move on to the others (if you want).
The best social media platforms for real estate agents are…
Facebook and Instagram
More specifically…
Facebook Business Page
Facebook Ads
Facebook Local Groups,
Facebook Personal Profile
Instagram
These platforms are the best social media for real estate agents, hands down!
It is against Facebook's terms of service to use your Personal Profile for commercial gain. So be very careful about what you post on your profile because Facebook has every right to shut your whole account down if you're promoting your business on your Personal Profile. To be safe, always post your business promotions on your Business Page, not your Profile.
7. Schedule Your Real Estate Social Media Posts, So They Go Out (Even If You're Busy)
I cannot stress this one enough. Ideally, you'll want to schedule all of your posts one week in advance. And if you're using a content calendar that should be really simple for you to do.
For Facebook scheduling…
I like to use the Creator Studio inside Facebook.
For Instagram Scheduling…
I like to use a program called, Later.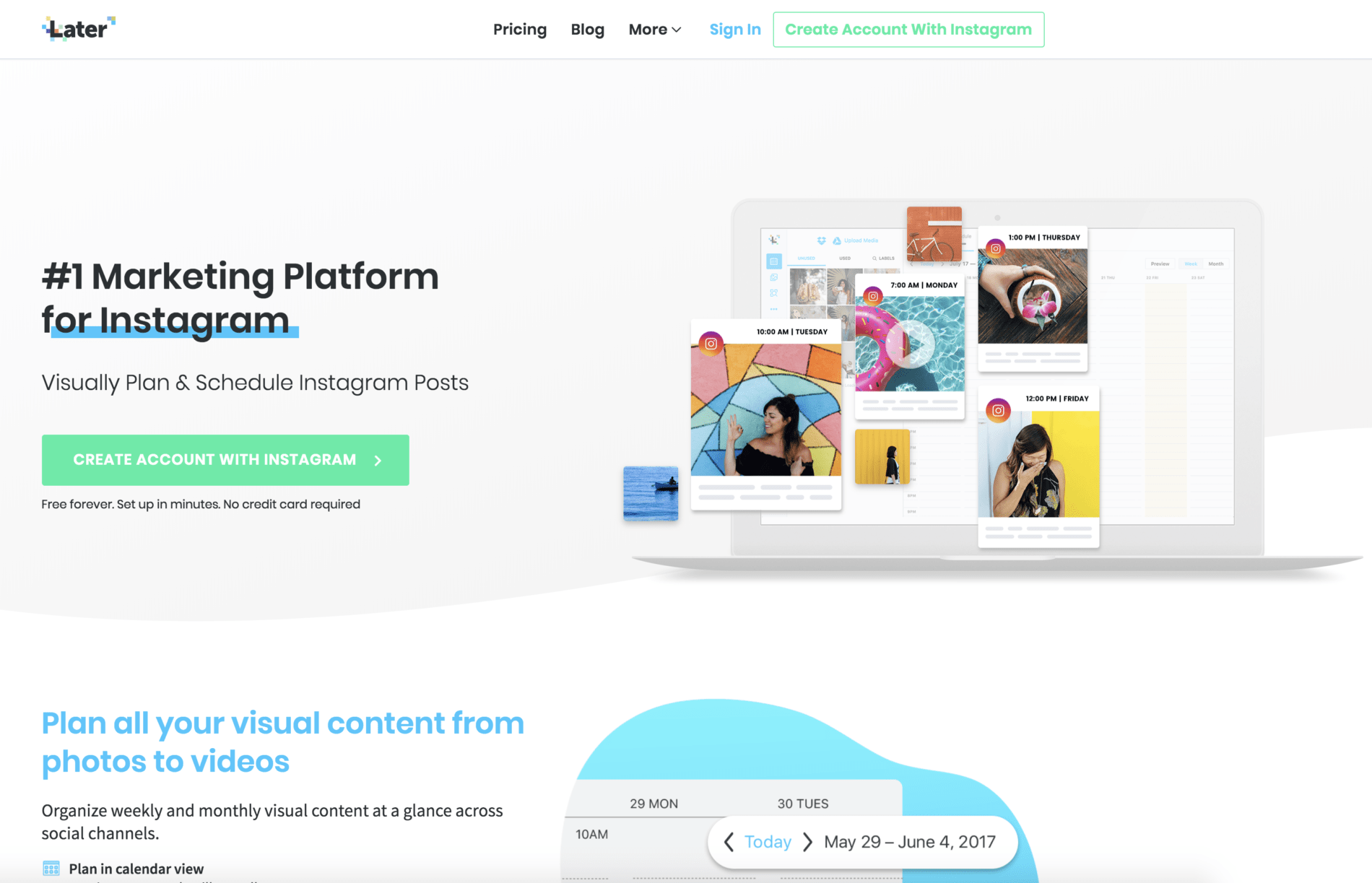 In summary, we've covered all the best real estate posts for social media and all of the best platforms. Now, let's start posting!