As a real estate agent, I understand how discouraging search engine optimization (SEO) can be. All of the major syndication sites, like Zillow, have taken over all of the top rankings on search results pages. You can no longer create a page called "Los Angeles Homes For Sale" and expect loads of LA traffic — Unfortunately, the syndication sites already have that market cornered. So creating a real estate neighborhood page can seem totally fruitless.
But don't lose hope yet. There is a way to beat them, but it has to be done in your turf… Get hyperlocal – Because they don't know your community like you do!
As of right now, IDX Pages still rank well on Google. So you're going to use this as a weapon, just like Zillow does. Your IDX feed is your artillery and your community page is your armory. Now let's go to battle!
How To Set Up Your Neighborhood Pages To Boost Your SEO
Every real estate agent should have dedicated pages on their websites that display an IDX feed with homes for sale in their target markets. These are commonly referred to as real estate neighborhood pages or community pages.
But if you want to beat Zillow, you have to take it a few steps further. Build a community page for every county, city, school district, and neighborhood that you are targeting. Then add features, like pools, views, oceanfront, RV Parking, pricing, etc.
For example, you may have a page on your website called…
"Trousdale Estates Homes For Sale Under $500,000 With Pool"

or

"Trousdale Estates Homes for Sale Under $700,000 With A View"
And on these pages, you would have a corresponding IDX feed to match. So when people land on your site, they can see all of the homes for sale that they were looking for.
The Hierarchy Of Your Neighborhood Pages
Your real estate neighborhood pages should be built as a hierarchy. Here's an example of how you should structure them.
Again, create your pages by geographic location and accompany them with a feature, like a pool or a price range. (i.e. Homes For Sale In Beverly Hills Under $900,000 or Homes For Sale In Melrose With Pool or Horse Properties In Los Angeles). Only you know what people in your area really want and that gives you a huge advantage over Zillow!
Now Let's Fill In the Blanks
In this case, let's say that Los Angeles is the county, Beverly Hills is the city, Melrose is the neighborhood, and the features are price ranges under $900k and the pool. From this example, you can easily see how when you mix and match features, the combinations are limitless.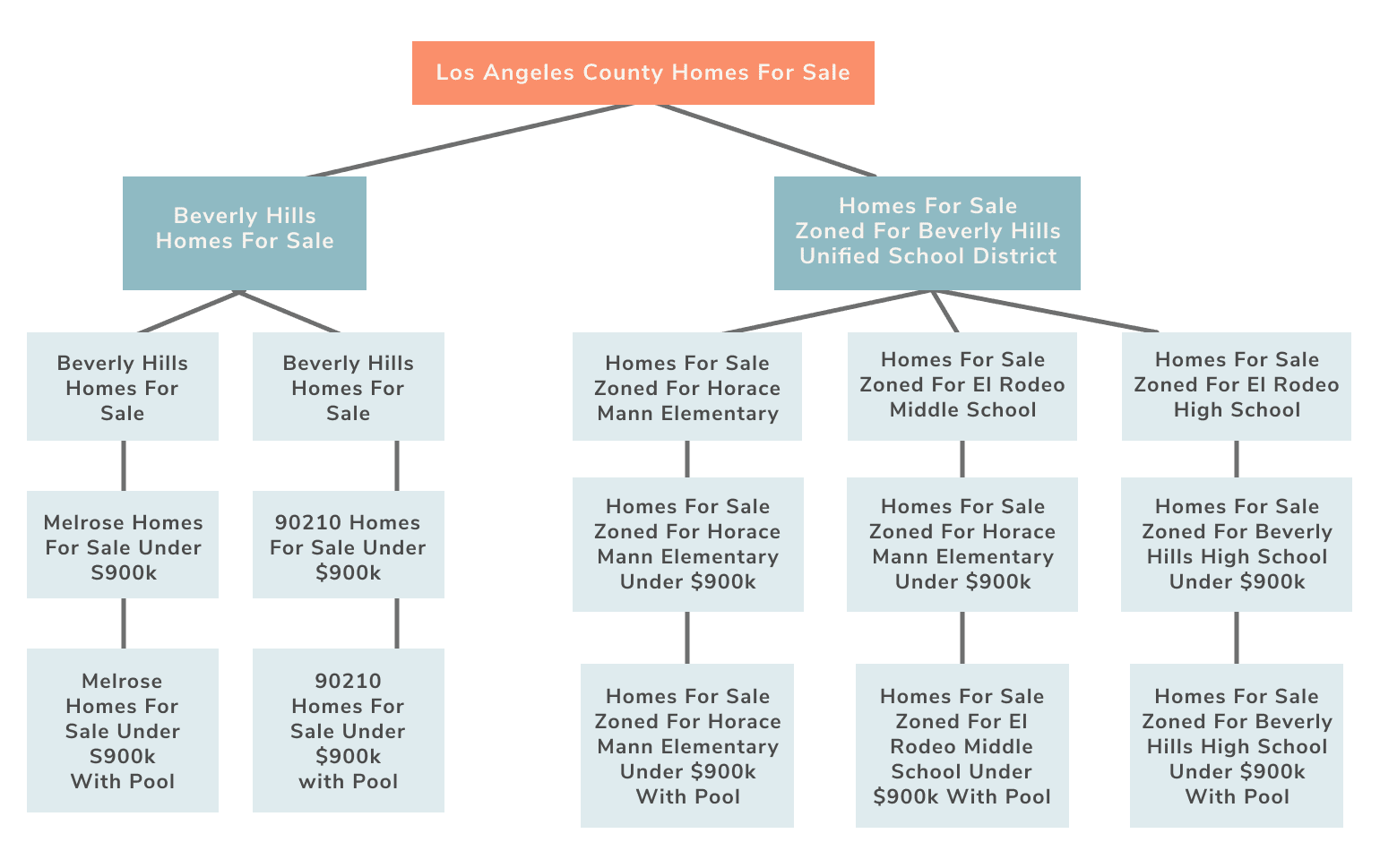 To ensure good SEO, all of these pages should have a good tiered link structure. For example, neighborhood pages should be nestled under city pages, and city pages should be nestled under county pages.
So in the school district example, the link structure of your pages would look something like this:

yourdomain.com/los-angeles-county/beverly-hills-unified-school-district/beverly-hills-high-school
Include Relevant Links At The Top Of Every Community Page
So for instance, if you created a page called "Trousdale Homes For Sale," then the visitor should also see:
"Trousdale Homes For Sale Under $400,000"

"Trousdale Homes For Sale Under $500,000"

"Trousdale Homes For Sale Under $600,000"

"Trousdale Homes For Sale Under $700,000"

"Trousdale Homes For Sale Under $800,000"

"Trousdale Homes For Sale Under $900,000"

"Trousdale Homes For Sale Over $1,000,000"

"Trousdale Homes For Sale With Pool"

…And anything else that's applicable to the neighborhood
To include all of these links on all of every community page can get a little tedious. So to speed up the process, we use a free WordPress plugin called Table Press. We install it at the top of our real estate neighborhood pages so that visitors who land on "Los Angeles Homes For Sale With A Pool" can also see a link for "Los Angeles Homes For Sale Under $700k."
This way, we just do it once on the backend, and Table Press syndicates them all for us on the front end – Even if you make changes down the road. It's a real lifesaver!