The Ultimate Guide to Real Estate Facebook Ads
Everything you need to know about real estate facebook ads! Ad types, anatomy, targeting, retargeting, best practices, examples, and more!
Real Estate Facebook Ads In A Nutshell
Facebook ads are the best thing that has ever happened to online marketing. It's the only platform that has ever been invented that allows you to target on such a hyper-local and micro level. And when it comes to Facebook Ads for Real Estate Agents, these two go together better than peanut butter and jelly!
Not only can real estate agents advertise unlike ever before, they can do it at a fraction of the cost! $0.03 cent video views? Yes, please!
Most of the time when Realtors® think about Facebook Ads, they think "just listed" or "coming soon" or "just sold." Yes, you can create ads for all three of these scenarios, but if that's all you're doing, you're leaving a lot of leads on the table.
Keep reading, because I'm about to blow your mind!
Real Estate Facebook Ads Anatomy
Every Facebook Ad is composed of three parts: Campaign, Ad Set, and Ad
1. Campaign Level:
The type of ad you want to run
What action you want to optimize for (clicks, engagement, etc)
2. Ad Set Level:
Who sees the ad (i.e. Homeowners)
Who doesn't see the ad (i.e. Local Realtors®)
Ad budget
Ad duration (i.e. only on Tuesdays, for 5 days, from 9 am – 5 pm, etc)
Ad placement (i.e. mobile, desktop, ad network, Instagram, etc)
3. Ad Level:
Ad copy and text
Ad images and videos
Ad buttons
Ad call to actions
Now, let's break all three of these elements down a little bit further, shall we?
1. Campaign Level:
The Best Facebook Ad Types For Real Estate
Facebook has a lot of different ad types, but if you're an agent, you only need to worry about these three…
A. Traffic Ads:
Traffic ads are designed to be shown to people that have a propensity to click on ads. Yes, Facebook knows which among us click on ads and which don't (FYI, my hand is raised right now.) Because this ad type optimizes for clicks, they work best when you are trying to drive traffic to a landing page where people can opt in and become a lead. This is why I love traffic ads so much – They are my g0-to lead generation ad types!
B. Engagement Ads:
Engagement ads are designed to be shown to people that have a propensity to engage with ads. These are the people that like, comment, share, and react the most. Because this ad type optimizes for likes and shares, they work best when you are trying to get your name out into your community. I use this objective when I'm trying to advertise a Realtor®'s post about community news, local events, and hyper-local blogs.
C. Retargeting Ads:
Retargeting ads are designed to be shown to people who are already are familiar with your brand. These are the people that know, like, trust, and remember you. Because this ad type optimizes for people in your sphere, I use them when I'm trying to stay top of mind or drum up leads and referrals from a database.
2. Ad Set Level:
The Best Targeting & Tactics For Real Estate Advertising
Again, one of the reasons why the Facebook Advertising platform is so powerful is that it lets you target at a granular level. Not only can you get a higher quality of leads by sending the right ad, to the right person, at the right time… You can do it for a fraction of the cost!
Here are some of my favorite ad targeting and tactics to use at the Ad Set Level!
Targeting: By Behavior
Likely To Move
Buyer portals (i.e. Zillow, Trulia, etc)
Targeting: By Demographic
Homeowners
First Time Home Buyers
Income
Home Value
Newlyweds
Military
New Parents (Upsizing)
Adult Parents (Downsizing)
Language
Targeting: By Geography
Zip Codes (both include and exclude)
Cities (both include and exclude)
Radius around an address
Pin Drop (to reach all of the homes in a neighborhood)
Tactic: Facebook Ad Budget
$5 – $10 a Day will do it! (I've tested more and there is a diminishing return)
I like to spend $5/day for 7 days (or if you're feeling fancy, $7/day for 5 days)
Tactic: Facebook Ad Duration
Shorter is always better, to avoid ad fatigue (Your ad cost goes up when the ad clicks go down)
Swap out the images (also to avoid ad fatigue)
Tactic: Ad Placement
Keep your ads in the newsfeed (opt out of Instagram, right column, and the ad network)
Most of my traffic comes from the mobile newsfeed (but it's fine to leave the desktop option on)
3. Ad Level:
Best Practices for Realtor® Advertising Copy & Imagery
Always Call Out Your Audience:
If you're running an ad to people who live in Pleasantville, you're going to want to call them out by name.
Hey Pleasantville!
Likewise, if you're speaking to homeowners, you can say something like…
Hey Pleasantville Homeowner! Are you thinking of buying or selling a home this year?
When you call out your audience, the ad feels more personal – Like you're talking directly to that person. This makes the ad feel less like it's coming from a business and more like it's coming from a friend. People hate to be sold, so they are more likely to click on posts from a friend rather than a business – Especially on social media.
Put Links In The Ad Copy:
As strange as it may sound, some people don't know where to click when they see a Facebook Ad. So even though you have an image and a button that tells people to "click here" loud and clear… Some people need to be told with a megaphone.
Not everyone will know how to click on an ad, but everyone knows how to click on a link. So always put links in your ad copy, so our less tech-savvy friends are clear on what to do. I've actually tested it both ways and in the Facebook Analytics, I can see that people click more on my links than they do on the images, videos, or buttons.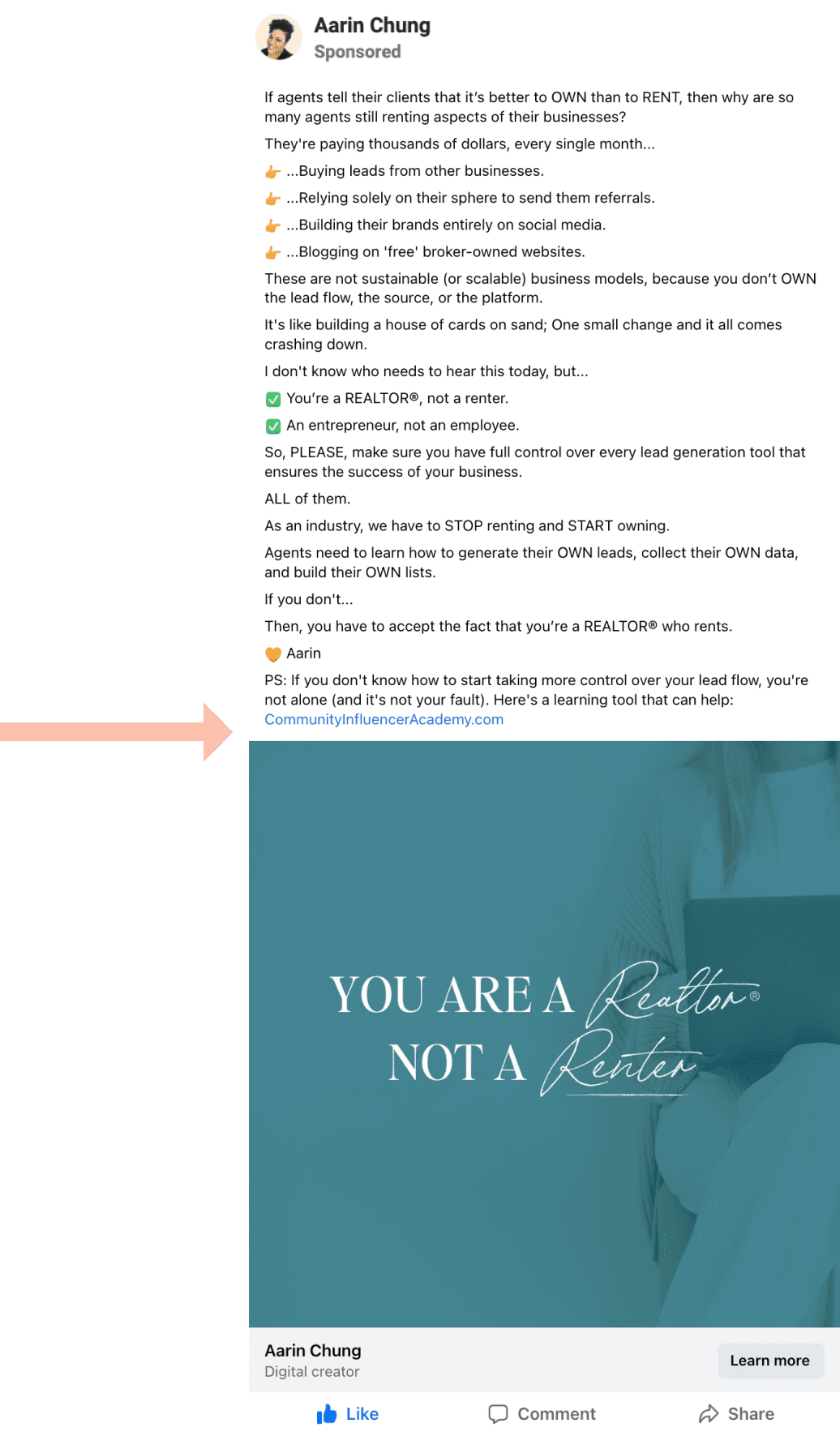 Use A Link Shortener
When you have a really long link you definitely want to make sure to shorten it. First, because when the link is really long, then you're taking up valuable real estate above the fold that should be used for ad copy. Second, long links look spammy, so people are less likely to click on them.
If you have a WordPress website (and you should) my favorite link shortener is a plugin called "Pretty Link Lite." I love this plugin because it brands all of your shortened links with your domain.
Example: To get a free copy of my Real Estate Marketing Plan, click here: https://communityinfluencer.com/roadmap
If you don't have a WordPress website (and you should), my favorite link shorteners are bit.ly and Google.
Example: To get a free copy of my Real Estate Marketing Plan, click here: bit.ly/2HUTiXb
Call to Action
At the end of every single ad, always include a call to action. The call to actions that I always use are…
Click below for more info 👇

Call or text us anytime!

Never miss a thing in Pleasantville! Join our Newsletter
Add Emoji Sprinkles
Emojis may sound silly, but really, no one is above the use of Emojis. My grandmother uses them and she's 87.
I've tested ads both with, and without emojis, and the emoji ads always win! I have a feeling it's because it makes the ad seem more human – Less like it's coming from a business and more like it's coming from a friend. In other words, there's a likable human on the other end of the ad, not a sleazy Realtor®.
And I like to keep my marketing sleaze-free!
Use Great Images & Videos
In the battle between good images and bad images, take a wild guess and tell me which one wins?
You guessed it! Good images!
I digress, if you're marketing a property, you need to have stunning images. This is non-negotiable. Likewise, if you're running an ad for a free seller guide, include a mockup of the guide on the ad as well, so people can see. When people have a visual of what they're getting themselves into when they click on your ads, they'll be much more likely to do so.
For ads that promote a neighborhood, use photos of listings from the past (if possible). If you're new, you can get stock images, but just make sure that they match the local feel and flavor of your geographic farm.
My two favorite places to get professional stock images, for free are Pixabay and Pexels.
Need an image of a cute puppy for a blog post about local dog parks? Check.
Need an image of a cute baby for a blog post about upsizing in your community. Check.
Don't Give Away The Farm
Your ads are meant to be a tease, not an infomercial. If you give people the drone shots, the address, the beds, baths, and square feet then they don't need to click on your ad. They'll just hop on over to Zillow and find more information there.
Instead, just give them enough information to peak their curiosity and interest, so they click on the ad. If they want all the goods, then they need to opt in and become a lead to get it.
That's the deal: You give me your info and I'll give you mine.
The 3 Essential Elements of Every Effective Real Estate Facebook Ad
1: The Ad Itself
Okay, I think we've covered this in detail above.
2: The Lead Magnet
A lead magnet is an item of value that you can give away for free
It must be something that's so attractive to a lead that the lead is willing to part with their precious contact information to get it
If you're not getting leads online, it's because your lead magnet isn't desirable enough. Period.
3: The Landing Page
A landing page is a place where a lead will land once they click on your ad
A great landing page gives people just two options: Opt-in or leave (that's it)
A great landing page is free from distractions (no menus, buttons, or branding)
A great landing page has a clear call to action
A great landing page has the same background image as the ad (for congruency)
A good landing page provider will give you the ability to deliver your lead magnet instantly via email
One last thing to note about landing pages… Facebook does offer built-in landing page, called a Lead Ad, but in my experience the results are lackluster. So I always use a 3rd Party landing page provider instead. (This is my favorite landing page provider.)
The Best Lead Magnets For Real Estate Ads
The Best Real Estate Ads & Lead Magnets For Sellers
Market Updates (whip out your iPhone and start filming!)
Open House Ads
Testimonials
Seller Guide
Join Your Weekly Newsletter
Join Your Local Facebook Group
Attend Your Local Event
Holiday Events (i.e. The best Christmas Lights or Pumpkin Patches)
Instant Home Evaluation
Just Listed Ad
Just Sold Ad
Geo-Farming Ad
The Best Real Estate Ads & Lead Magnets For Buyers
A List of Off-Market Homes For Sale
Coming Soon Ad
Open House Ad
Testimonials
Lifestyle Ads (showcase the community)
List of upcoming open houses
List of foreclosures, short sales, etc
List of New Construction
List of Single Story homes
List of Pool Homes
Neighborhood Guides
Drone Videos (showcase the community)
Buyer Guide
Listing Alerts
List of Homes for Sale Under [Average Price Point]
Relocation Packet
Facebook Ads For Real Estate: Retargeting
Warm Vs. Cold Audiences
A warm audience is one that may already be familiar with your brand. They probably know like and trust you already. A primary example of a warm audience would be someone that is in your database or someone who has visited your website.
A cold audience is one that has never heard of you or doesn't remember you. They haven't had any interaction with you, so they don't yet know, like, or trust you yet.
When it comes to Facebook ads, you're always going to pay more for a cold audience member than a warm audience member. This is because a person in your warm audience will be more likely to click on your ad.
When it comes to Facebook Ads for real estate, your goal is to move everyone from a cold audience member into a warm audience member as quickly as possible. Facebook retargeting adds is just one of many ways to do this.
The Facebook Pixel
In order to run a Facebook retargeting ad, you have to install a Facebook Pixel.
The Facebook Pixel is what makes Facebook Ads so powerful. The Pixel tracks leads on your website and landing pages, so Facebook knows if someone has been to your website before, what pages they viewed, and if they opted in.
To get the most out of Facebook Ads make sure that you've installed the Facebook Pixel on your website and all of your landing pages.
Warm Audiences That Can Be Retargeted on Facebook
People in your CRM's database
People in your LinkedIn database
People who have visited your website (or landing pages)
People who have visited certain pages on your website (like a buyers blog post or a "thank you" page)
People who have engaged with you on your Facebook Page
People who have engaged with your Facebook Ads
People who have engaged with you on your Instagram Page
People who have engaged with your Instagram Ads
People who have watched your videos
Real Estate Facebook Ads Best Practices
Read and Accept the Facebook "Fair Housing" Agreement
A lot of real estate agents will comment in my Facebook group, and ask me why their ads have not been approved recently. And 9 times out of 10, the answer is always the same: They haven't excepted the new Facebook "Fair Housing" Agreement.
If you see that some of your ads have been declined, go into the Facebook Ads Manager and make sure that you have accepted the new agreement. That will usually take care of the problem.
Excluding Local Agents
Always exclude other agents from seeing your ads. Nothing good can come from allowing a competitor to taste your secret sauce. I've run ads for a lot of agents around the country, and typically, once a local agent sees a winning ad, they'll copy it faster than a Xerox.
Boosting vs. Ads Manager
Never (ever, ever) boost ads from the front end of your Facebook Page. You'll just limit your targeting options, which means that you'll always have a higher ad cost. The best way to run an ad on Facebook through the backend Ads Manager. When you do it from there, you'll have so many more options, and analytics, and control over your ads and your ads spend.
Be Consistent
Facebook Ads are just like any other real estate lead generation strategy – it takes time. Studies show that someone needs to see your brand at least seven times before they recognize and remember it. So if you are just running one-off ads inconsistently, you can't expect to see any results.
Don't Touch Your Facebook Ads For 48 Hours
The Facebook Pixel is so smart that it actually has a learning period where it learns what type of people that are opting into your ads and once it figures that out, it will scrub everyone on your targeting list and show your ads to people who are more likely to take action.
But the catch is that you can't touch your ads for at least 48 hours. This 48 hour period is when the Facebook Pixel is in learning mode. So even if your ad costs are high over the first 2 days, there is a good chance it will come down, once the Pixel starts working it's magic!
Don't Change Your Facebook Ads Midstream
Once the Facebook Pixel learns who to show your ads to, it starts to become a snowball effect. So if you change your ads midstream in any way, the Pixel gets confused. So if you have an ad that needs to be changed, always duplicate it at the Ad Set Level, turn on the new ad, and turn off the old. This way the new ad starts fresh and confusion-free!
Workshop: The Everywhere Agent™
85% of real estate agents fail within their first 5 years. And do you know why? Because they aren't generating enough leads to scale their business.
That's the ugly truth about this industry. But the good news is that you are 100% responsible for the actions you take and the results you get.
Learn how we're using viral content to get 100+ warm leads to message us every single month (on autopilot) – with nothing more than a cell phone and a social media profile.